Pop the date in your diary: Sunday 10 April 2022
THE TUMBLING LASSIE and DANDIE DINMONT: A double-bill of short operettas by Tom Cunningham and Alexander McCall Smith, set in Edinburgh and in the Borders.
Join us for a wonderful evening of entertainment.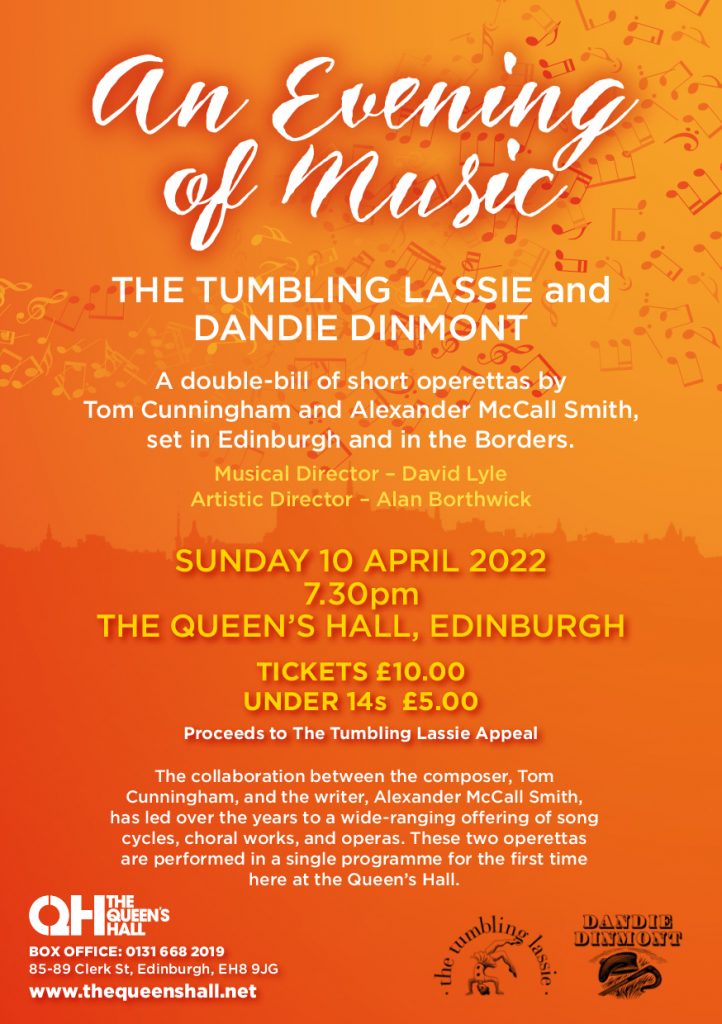 A collaboration between the composer, Tom Cunningham, and the writer, Alexander McCall Smith, these two operettas are performed in a single programme for the first time here at the Queen's Hall in Edinburgh. Tickets are available now from the Queen's Hall box office.
An extraordinary Double-Bill
The Tumbling Lassie tells the true story of a child gymnast who was exploited by a late seventeenth century showman. She was later rescued by a warm-hearted woman from the Borders. This led to an important case in the Court of Session in Edinburgh in which the court ruled that slavery was not legal in Scotland.
This moving and thought-provoking operetta features a performance by a real contemporary Scottish gymnast. The first production of this short work garnered a Four Star review in All Edinburgh Theatre.com
Dandie Dinmont is the story of the famous Borders farmer of that name in Sir Walter Scott's Guy Mannering. This operetta was written for the Borders Book Festival and is performed in Edinburgh for the first time in this programme. A highlight of this colourful and romantic piece is a children's chorus sung by local Edinburgh children: Make us a pie, Mither!
This should be a charming and most enjoyable evening. Tom Cunningham's music and the words of best-selling author, Alexander McCall Smith create the perfect match in this much anticipated double-bill. Be sure not to miss this event.
The operettas are directed by the well-known Edinburgh musical director, David Lyle. Artistic direction is by Alan Borthwick. All proceeds of this concert go the Tumbling Lassie Appeal. It will then be distributed to fund work by charities which help the victims of contemporary slavery and people-trafficking.