A new gallery housing The Great Tapestry of Scotland opened in late August of this year. Three months on and it has won one of the country's highest tourist accolades – a FIVE STAR award from Visit Scotland.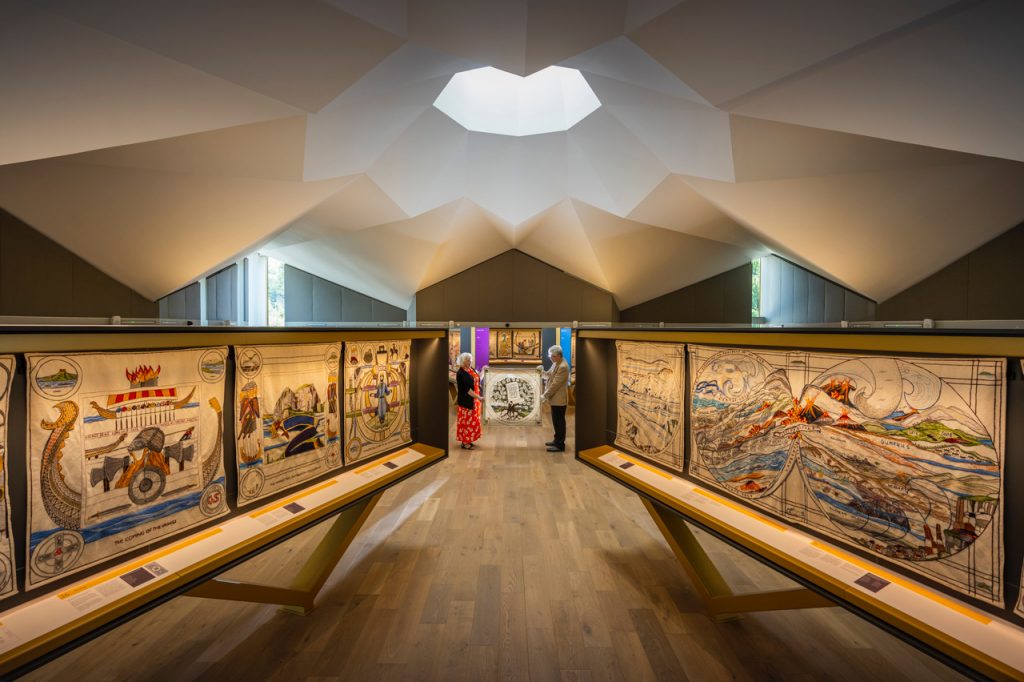 The purpose-built gallery sits in the historic heart of the Scottish Borders, in Galashiels. Galashiels was once home to much of the country's textile industry. It has recently seen its rail link with Edinburgh re-instated after more than fifty years. The new building was designed by architects Page / Park. Their superb work, combined with the exhibit of the world's longest hand-embroidered tapestry and the great knowledge of the visitor team, creates a unique, welcoming and rewarding visitor attraction.
Delight and congratulations from the Creators to the Curators:
World renowned author Alexander McCall Smith, and the original creative and management team behind the making of the Great Tapestry of Scotland, are delighted for those now exhibiting the artwork and caring for it in Gala. The Visit Scotland award will bring the already popular centre to the attention of even people at home and abroad. The work of Alistair Moffat, Andrew Crummy and the creative artistry and long hours from more than 1000 stitchers is a joy to behold. It takes several hours to take in and it can be an emotional experience but a very positive one at that.
Previously toured by Project Director Jan Rutherford and Manager Anna Marshall, this centre offers a stunning permanent home for this great community work of art. Here it is superbly cared for by Sandy Maxwell Forbes and her team.
If you get a chance, go. It is well worth a visit (and the coffee is the best in the Borders!). Don't take our word for it:
A striking new building shone like a welcoming beacon through the rainy gloom in Galashiels.
Inside, it was something of a revelation to realise that the Borders town is now home to one of Scotland' s must-see attractions, one of the best new additions for the tourism industry anywhere in the country and one of the best places to learn about Scottish history under the one roof.
There is little doubt that Galashiels has ended up with something pretty special which should be the envy of every town in Scotland.Brian Ferguson, The Scotsman
Read more about the opening of the new centre here.
ORDER THE BOOKS OF THE TAPESTRY HERE.
For more information and to book tickets to see the Great Tapestry of Scotland, visit their website now.