We are delighted to announce that Alistair Moffat's new book, In Search of Angels, is one of the 13 books selected for the 2020 Highland Book Prize Longlist: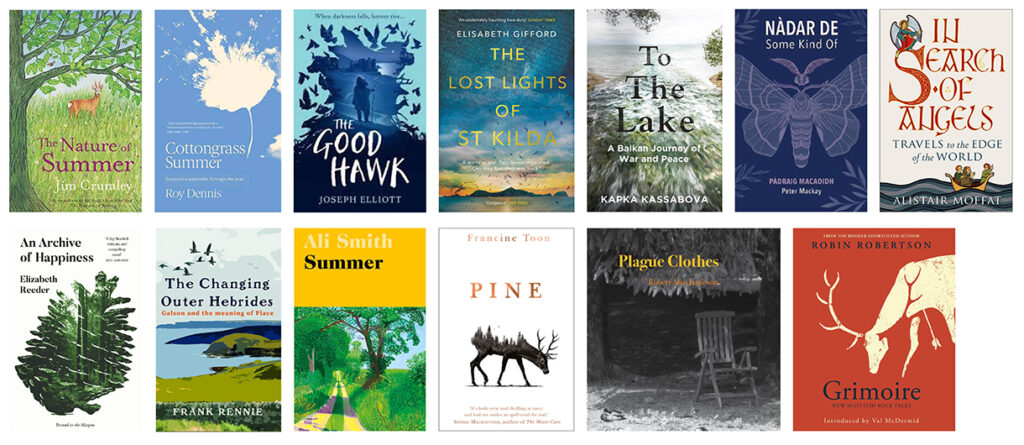 In Search of Angels: Travels to the Edge of the World is an ambitious and remarkable travelogue covering the Highlands and Islands of Scotland, a history of adventurers – those seeking the ultimate challenge, isolation and ultimately to spread the Word of God. It is beautifully written by much-loved people's historian Alistair Moffat and captures the spirit of place as it might have been 14 centuries ago along with the character of the islands and remote communities he rediscovers today as he scrambles rock-faces, travels the remote roads and the stormy seas all in search of the story of those intrepid souls who made these early journeys to Scotland's Atlantic edge. This is a book for all who love the Highlands and islands of Scotland – an armchair adventure from a favourite author that does much to lift the spirits in these difficult times.
The 2019 prize was shared by four books including our own Moder Dy by Roseanne Watt.
The full list is below:
The Nature of Summer by Jim Crumley, published by Saraband (nature and environment).
Cottongrass Summer by Roy Dennis, published by Saraband (nature and conservation).
The Good Hawk by Joseph Elliott, published by Walker Books (young adult fiction).
The Lost Lights of St Kilda by Elisabeth Gifford, published by Atlantic Books (fiction).
Plague Clothes by Robert Alan Jamieson, published by Taproot Press (poetry).
To The Lake by Kapka Kassabova, published by Granta (memoir, reportage, travel).
Nàdar De | Some Kind Of by Pàdraig MacAoidh | Peter Mackay, published by Acair Books (poetry, Gaelic and English).
In Search of Angels by Alistair Moffat, published by Birlinn (travel and spirituality).
An Archive of Happiness by Elizabeth K Reeder, published by Penned in the Margins (fiction).
The Changing Outer Hebrides: Galson and the Meaning of Place by Frank Rennie, published by Acair Books (history and nature).
Grimoire by Robin Robertson, published by Picador, Pan Macmillan (poetry).
Summer by Ali Smith, published by Hamish Hamilton (fiction).
Pine by Francine Toon, published by Transworld Publishers (fiction).
The first round of judging for the Highland Book Prize was completed in October by a panel of 145 volunteer readers. The panel of industry professionals and avid readers from the Highlands and further afield was tasked with reading and reviewing 52 entries from over 30 publishers. Readers spent the summer immersed in fiction, poetry, memoir, history, nature, crime, young adult and Gaelic titles.
The second round of judging to determine the shortlist will be undertaken by a panel of expert judges including novelist and poet Kevin MacNeil; poet Jen Hadfield; Mark Wringe, senior lecturer in Gaelic Language and Culture at Sabhal Mòr Ostaig, and panel chair Alex Ogilvie of the Highland Society of London.
The judges will announce the shortlist in March of 2021, with the winner being revealed on the 8th of May 2021 at an event hosted by the Ullapool Book Festival, the Highland Society of London and Moniack Mhor Writers' Centre. The winning entry for the best work published in 2020 will receive a cash prize of £1000 and a place on a writing retreat at Moniack Mhor.